INSIDE Long Island MacArthur Airport (ISP)
The Town of Islip owns and operates MacArthur Airport (ISP), located in Ronkonkoma, 50 miles outside New York City. The airport serves primarily the three million residents of Nassau and Suffolk counties, in addition to the travelers from the Greater New York Metropolitan Area and around the nation who seek a more convenient alternative to JFK and LaGuardia airports. MacArthur Airport, which does not share the congested air space of the city-centric airports, has fewer delays and cancelations, and is a 5 minute ride to the LIRR.

Please see below as MacArthur Airport Commissioner Shelley LaRose-Arken and Deputy Commissioner Rob Schneider provide greater insight into one of our Town's most standout assets.

1. Origin Story.
In 1942, just four months after the bombing of Pearl Harbor, the Town of Islip contracted with the Federal Government to build an airfield on Town-owned land for military use. Originally named Islip Airport, it would later be renamed to MacArthur Airport, in honor of WWII General Douglas MacArthur.

Throughout the 20th century, the airport would undergo many expansions and transformations, and in 1960, Allegheny Airlines would become the first airline to operate scheduled passenger service with flights out of MacArthur.

Following the 2006 completion of a new $90 million terminal building by Southwest Airlines, Long Island MacArthur Airport (ISP) has become one of the strongest regional airports in the country today.
2. What are the numbers?
Long Island MacArthur Airport encompasses 1,311 acres and has three runways and two helipads.

Long Island MacArthur Airport customers enjoy flights on three major US domestic air carriers: Together these carriers currently provide service to 12 cities nonstop, and connect to hundreds of destinations worldwide.

The airport serves 1.6M passengers annually and employs 6000 people directly and indirectly, with a $16M annual operating budget and an economic impact of $600M to the region and local economy.
3. An Asset of the Town of Islip, for all of Long Island.
Long Island MacArthur Airport is owned and operated by the Town of Islip. It's central location between Montauk Point (72 miles East), and Manhattan (60 miles West), provides a local option for passengers from townships both East and West of the Town of Islip, enabling the airport to accommodate the three million residents of Nassau and Suffolk counties.

Additionally, the airport is conveniently accessible from three major East‐West thoroughfares: located one mile North of Sunrise Highway; four miles South of the Long Island Expressway; and connecting to Veteran's Memorial Highway.

The LIRR Ronkonkoma Station is also less than two miles from ISP's main terminal, providing passengers with the ability to travel to and from NYC easily, affordably and efficiently.
4. What dictates or determines which airlines fly with the airport? How does ISP work alongside these airlines?
ISP is uniquely-positioned to benefit from dynamic changes in the aviation industry and, more specifically, to partner with new carriers who are identifying innovative airports with a high level of customer experience for investment opportunities.

There are five key factors why an air carrier might choose to serve an airport:
Market Size
Market Vitality
Customer Experience
Airport Operating Costs
Community
Long Island MacArthur Airport's large demographic of travelers from Suffolk and Nassau County, close vicinity to the NY metro market, low cost convenience and customer-minded focus, along with it's financial self-sufficiency and support and loyalty from the Long Island community, establishes ISP as a strong business partner to any airline seeking to leverage our stellar features and reputation.
5. In what ways does ISP work to continue to grow and improve as an asset to Long Islanders?
The airport will complete by 2020‐2021, approximately, $37.9 million in federally and locally funded planning and capital projects, including but not limited to:
Rehabilitation of Runway 15R-33L and associated Taxiway Lighting.
Mechanical, Electrical, Plumbing Main Terminal Upgrade.
Main Terminal Improvement Projects.
Multi User Flight Information Display Upgrades.
Security Upgrades.
Digital Paging Replacement.
Replacement of airfield snow brooms, plows, and pay loaders for snow removal.
Taxiway E&F Rehabilitation Design & Construction.
Rehabilitation of Taxiway S Design & Construction.
Rehabilitation of Runway 15R/33L Design & Construction
All of which have been made or are in progress without the use of taxpayer dollars.
6. How has MacArthur Airport worked to prioritize ever growing health and safety concerns?
Long Island MacArthur Airport (ISP) has implemented innovative technological health and safety protocols to ensure the ongoing safety of our employees and passengers.

ISP was the first airport in the world to install Continuous Air Surface Pathogen Reduction units throughout the 16 terminals. These units effectively kill 99.9% of viruses, germs, and bacteria in the air and on surfaces. The Ground Vehicle Transportation Center will also leverage this technology.

ISP was also the first airport in the world to install Silver Defender antimicrobial films on all high touch surfaces, and was amongst the first airport in the United States to install a Personal Protective Equipment (PPE) vending machine.

ISP is continuing to transition from legacy systems to touchless and contactless technology including; QR code ordering for food and beverages, online ordering in advance of travel for food, beverages, and concessions.

ISP has also recently installed a new state-of-the-art 3-D TSA checkpoint scanner to improve screening and detection capabilities, as well as parking vendor automated payment options and charging stations.
7. The airport uses no local taxpayer dollars!
The airport applies for and regularly receives, grants issued through the FAA's Airport Capital Improvement Program (ACIP). Occasionally, New York State Grants, Empire State Development Grant (ESD), IDA Grants, and Department of Homeland Security (DHS) Grants may become available to support the airport's capital needs.

Approximately 90% of the airport's revenue is generated from vehicle parking, landing fees, airport property leases, and terminal rentals and concessions. Airport parking and airport terminal concessions are the largest revenue generators producing $3.5M and $6M annually. Other large income sources include airport leases $2.9M; landing fees $2.7M and fuel flow fees $900M.

The airport continues to recruit non‐traditional sources of income through movie shoots, special events and leasing vacant properties. This enables the airport to remain solvent and self-sufficient at no burden to local taxpayers.
8. Large role in Long Island Economy.
Long Island MacArthur Airport serves as a regional transportation center for the entire Long Island community, generating $600 million in economic impact and more than 6000 jobs directly and indirectly.

It's central location is one of the leading reasons businesses choose to locate in the Town of Islip. Many builders and developers have looked to capitalize on ISP's location by building new office space on the corridor.

With easy access to major roadways and the Long Island Railroad, ISP offers the ultimate in service and customer experience for the business and leisure traveler, and is the driving force behind the Veterans Highway Corridor becoming one of the fastest growing industrial areas.
9. Has the airport received any accolades or awards?
In 2020, and again 2021, MacArthur Airport was selected by a panel of experts at USA Today's 10Best Readers' Choice Awards, to be one of 15 finalists for the category of Best Small Airports (which looked at airports nationwide with fewer than 10 million yearly passengers).

Members of the traveling public weighed in, and Long Island MacArthur Airport was voted in6th place for 2020, and broke the Top 5 Best Small Airports in 2021, with a 4th place win.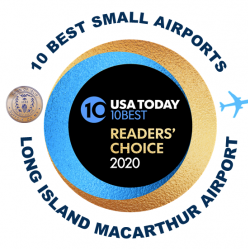 ---
Back to Inside Islip Town