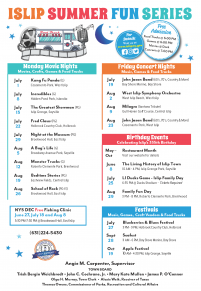 Click HERE to view the full event flyer
complete with dates, times and featured activities.
June 28th, 2019 – Looking for something to do this summer? The Town of Islip Parks, Recreation & Cultural Affairs has packed Summer 2019 full of FREE family fun events, with dates beginning in July! Come watch classic family-friendly movies under the stars, or enjoy games, music and a bite to eat at any of our Movie Nights, Concerts or Festivals. There's something for everyone, so mark your calendars! Admission is FREE!