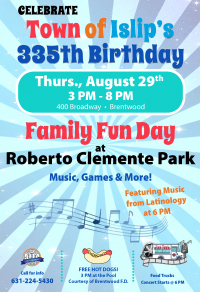 Click HERE to view the full event flyer in English & Spanish

Join us Thursday, August 29th as we continue our 335th Anniversary Celebration with Family Fun Day at Roberto Clemente Park. Come enjoy music, games and more, and be sure to take a dip in our beautiful new Roberto Clemente Park pool! Free hot dogs will be provided at 3:00 pm courtesy of the Brentwood F.D. Food trucks will arrive on scene starting at 6:00 pm. Bring you friends, family, and bathing suit and help us continue to celebrate our Town's 335th Birthday year with a day of Summer fun at the park!

Read more: Family Fun Day Celebrating Islip Town's 335th Birthday!