Breeze Airways Adds New Nonstop Service
to Vero Beach from Islip/Long Island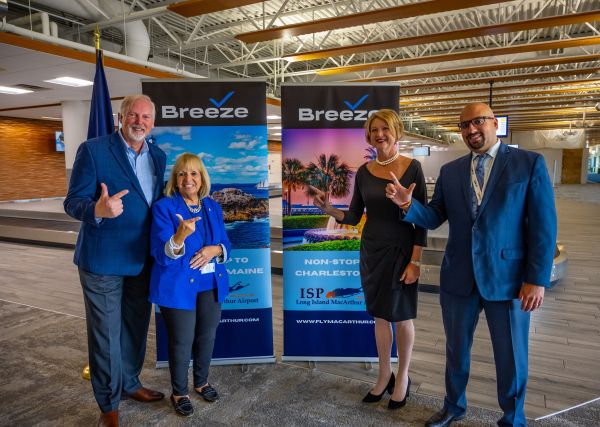 – Twice-Weekly Winter Seasonal Route Will Start December 21, With Fares from Just $69* –
October 3rd, 2023 – Breeze Airways, the U.S.' only NLCC, or 'Nice Low Cost Carrier,' is adding new service from Long Island MacArthur Airport to Vero Beach, FL, starting December 21. The new seasonal route will operate twice-weekly this winter, through April 28, 2024, with fares starting from just $69* one way.
From Islip/Long Island, NY (ISP):

Vero Beach, FL (VRB)** (Winter seasonal service, Thursdays and Sundays, starting December 21, Nice from $69* one way).
This marks the first time the popular Florida destination has been served commercially from ISP. Vero Beach will be Breeze's sixth destination from ISP along with nonstop year-round service to Charleston, SC, and Norfolk, VA; seasonal service to Portland, ME; Raleigh-Durham, NC; and Richmond, VA; and one-stop/no plane change BreezeThru service to New Orleans, LA.

Breeze launched flights to VRB in February this year, with twice-weekly flights from both from New York/Westchester (HPN) and Hartford, CT (BDL). Both routes have since gone daily and the airline will increase HPN-VRB service to 12x weekly flights starting in December. Breeze also announced service to VRB from Providence, RI (PVD) starting on November 2, which will increase quickly from 3x to 5x weekly.

"Long Islanders love visiting Florida year-round and especially in the winter. These new non-stop flights to Vero Beach will tempt travelers who want to take an easy, hassle-free vacation. The Treasure Coast is a hidden gem perfect for soaking up sunshine, playing golf, enjoying nature, and just relaxing," said Town of Islip Supervisor Angie Carpenter. "We also welcome visitors from Vero Beach to Long Island for some peaceful 'sweater weather,' holiday shopping in charmingly decorated downtowns, and delightful winter dining," she added.
"It's exciting to work with Breeze Airways on another new destination," said MacArthur Airport Commissioner Shelley LaRose-Arken. "We listen to our airline partners and believe in partnerships with them, especially in highlighting market intelligence that airlines otherwise would not have access to. We also are always listening to our customers and combining their wish list with what the airlines tell us, and then doing the work necessary to bring new destinations and travel choices for Long Island," she added.

"Vero Beach has been a huge success since we started service in February," said David Neeleman, Breeze Airways' Founder and CEO. "And our Guests have been very vocal about adding the service from Islip too. ISP leadership's own data also demonstrated the strength of this market. Now Long Islanders can grab a seriously comfortable, seriously affordable, and seriously nice winter Florida getaway to one of Florida's best-kept secrets."

All routes to and from Vero Beach will be flown on Breeze's brand-new Airbus A220-300 aircraft featuring three unique seating options, including Breeze Ascent, a generous recliner-style seat in a 2x2 configuration with 39 inches of seat pitch, 20.5 inches of seat width and special amenities such as complimentary snacks and drinks, including alcohol. Breeze offers its Guests both bundled and a la carte options known as Nice, Nicer and Nicest. Breeze Ascent is included in the Nicest bundle, or sold a la carte with Nice or Nicer.

In addition to featuring best-in-class economics, the A220 operates at lower noise levels, providing an exceptionally quiet and comfortable cabin. Wide seats combined with ample overhead storage create personal space without compromising on headroom, and the cabin management system will provide Breeze crews with easy, intuitive control of the aircraft's interior environment. The A220-300 aircraft are powered by Pratt & Whitney PurePower PW1500G geared turbofan engines.

Breeze doesn't charge change or cancellation fees up to 15 minutes prior to departure and offers other benefits such as free family seating and a la carte pricing. With seamless booking, no change or cancellation fees, up to 24-months of reusable flight credit and customized flight features delivered via a sleek and simple app, Breeze makes it easy to buy and easy to fly. Flights are now on sale at www.flybreeze.com and via the Breeze app.
---
*Introductory fare is available only when booking a new reservation. Supply is limited. Promotion must be purchased by October 9, 2023 (11:59 pm ET), for travel from December 21 through April 28, 2024. Price displayed includes taxes and government fees. Fare prices, rules, routes, and schedules are subject to change without notice. Blackout dates include: 12/21-1/7, 2/15-2/25, 3/28-3/31, 4/18-4/28. Other restrictions may apply.