ITEC was created by the Town Board in 1972 in order to preserve and improve the quality of life of the natural and man made environment within the Town of Islip.
The Council advises on all matters affecting the preservation, development and use of the conditions of the Town of Islip.

ITEC conducts surveys and studies as may be necessary to help research our environmental condition.

The Council sponsors community programs that foster increased understanding of environmental issues.

The Council maintains communications with public and private agencies of local, state and national scope whose programs have an impact on the quality of our environment.

ITEC works closely with KIC (Keep Islip Clean) to further the mission of keeping our Town clean and beautiful.

 

COMPLIANCE INCENTIVE PROGRAM INFORMATION 

The Town of Islip is implementing a Compliance Incentive Program to allow projects that were previously completed without a permit to be brought into compliance. The program is aimed at protecting public health and safety by encouraging commercial property owners to complete the Town's permit process.  The Town's goal is to ensure that buildings are safe, habitable and in compliance with the New York State Building Code, as well as the Islip Town Code.  To encourage participation by local businesses, the Town is discounting its Certificate of Compliance fees for commercial properties by 40%.

In addition to ensuring that safety issues are addressed by legalizing their properties, the owners will have assurance that work completed will not void any insurance claims, and they will have the permits required by financial institutions for loans and refinancing.  Commercial property owners are encouraged to take advantage of this short-term Compliance Incentive Program as soon as possible.  The Town does not anticipate renewing this program after it ends.  

"This is a one-time program designed to remedy a serious public safety issue. I urge property owners to come forward and bring their buildings up to code," said Supervisor Angie Carpenter. "Our inspectors and Planning Department officials are eager to work with these local businesses and guide them through this process."

To be eligible for this temporary program, the unpermitted activity must have occurred prior to January 31, 2013 and a complete Certificate of Compliance permit filed with the Building Department by May 31, 2017.  If the Town grants a permit, the previously unpermitted structure must be brought into compliance within one year.  If a violation has been reported and an appearance ticket issued, property owners will no longer qualify for this program. Enforcement efforts will be increased once the Compliance Incentive Program officially ends.  

For more information, call the Islip Town Planning Department at (631) 224-5466. 
---
 Programs
Charles Pulaski Environmental Awards
Sponsor of STOP (Stop Throwing Out Pollutants) Program
Storm drain and bay protection projects
Beautification and  Tree Planting Program
Research to protect local rivers and creeks
Advisory function to the Town Board

Storm Water Basin Medallion Program

: The Islip Environmental Council (ITEC) funded a project, which will place 1,000 medallions on storm drains throughout the Town of Islip. Last year, members of the Islip Town Board placed the first medallion on a drain that empties into the Great South Bay. The medallions (pictured) are designed to educate the public about dumping toxic materials down storm drains. For more information, please contact the Department of Planning and Development at (631) 224-5450.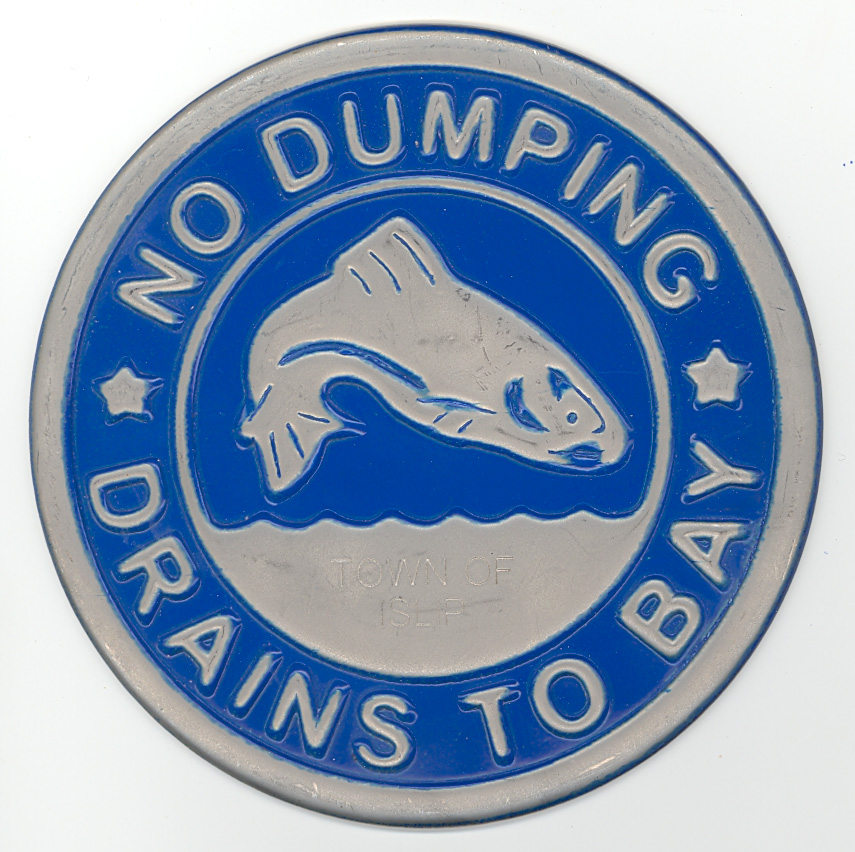 ---
ITEC Board Members:
Nancy Manfredonia, Chairperson
Steve Shatz
Leslie Kane
Patricia M.Brinkmann
Ginny Fields
Victor C. Gremli
Maureen Dunn