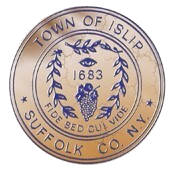 "We're in this Together…but 6 feet Apart!"
April 2nd, 2020 – Islip Town Supervisor Angie Carpenter and members of the Town Board, are working with county, state and federal officials to ensure the health and safety of all residents in the Town of Islip during the COVID-19 pandemic public health crisis.

ALL Town of Islip Buildings remain closed to the general public. Appointments can be made under limited emergency circumstances and only to address services that cannot otherwise be addressed online or by mail. Residents are encouraged to utilize the Town's website to conduct any necessary Town business. Visit our E-Government Services page HERE. Constituent Services can be reached by calling 631-224-5380.

Town marinas, playgrounds and basketball courts are closed to the public indefinitely. Signage at these locations has been posted in both English and Spanish. FAQs regarding these closures are available: CLICK HERE. In accordance with NYS COVID-19 guidelines, ice cream trucks have been classified as non-essential.

Town of Islip Planning and Development Divisions, while closed to the public during the COVID-19 virus, are continuing to operate ensuring that applications are processed and inquiries are answered in a timely manner. The offices are staffed at 50% in order to comply with the Governor's mandate for social distancing for essential services, and the balance of its staff are working from home to ensure the public continues to be served. For phone numbers, forms and applications, please go to our website and visit the individual department webpages.

Adoption procedures at the Town of Islip Animal Shelter have been temporarily adjusted during COVID-19. Please visit the Islip Animal Shelter Facebook Page, or the Town's website for the new procedures during the pandemic. Residents are encouraged to bring any yard waste they collect before the scheduled curbside collection date of April 20th, to the Town's compost facility at 1101 Railroad Ave, Ronkonkoma, NY, Monday through Saturday, between 7 am and 2:45 pm.

"It is essential that we follow the New York State mandate to stay at home and stop the spread of COVID-19. Social distancing in public spaces is critical to protecting the health and safety of ourselves and each other," said Islip Supervisor Angie Carpenter. "Federal officials are confident that Social Distancing is an effective practice in preventing the spread of COVID-19. As your local elected officials, we cannot stress enough, the importance of following the guidelines set by the Centers for Disease Control. WASH YOUR HANDS. KEEP 6 FEET APART when outside the home, and if you're sick, STAY HOME and SELF ISOLATE," added the Supervisor. "Our health care workers are waging the fight of their lives in order to save ours and those of our loved-ones. We must do our part to prevent area hospitals from becoming overwhelmed and from having to make life or death decisions," added the Supervisor. "And please remember, we are in this together…but 6 feet apart."

The Town of Islip has created a COVID-19 webpage which includes helpful links to information, including prevention and mental health resources during the pandemic. All of this information can also be found on the Town's Facebook Page, Twitter @townofislip and Instagram thetownofislip.